The SVC Foundation is accepting applications for Academic Scholarships through October 15, 2022. The Google Form can be found at: https://www.svcfoundation.org/scholarships/
Scholarships are open to any student currently enrolled or entering an accredited academic program related to the vacuum coating technology field. Scholarships are generally in amounts from $2,500 to $5,000 and can be used to provide financial assistance for tuition, books, fees, and travel to appropriate conferences.
One of our special scholarships is the newly founded Clark & Karen Bright Endowed Scholarship Honoring Angus Macleod. While the application form is the same, this Scholarship has a TOPICAL focus – students should be involved with Optical Thin Films or Transparent Conductive Thin Films, whether in the design, deposition and processing, thin film characterization, general study of these films or use in applications where a key or enabling feature is provided.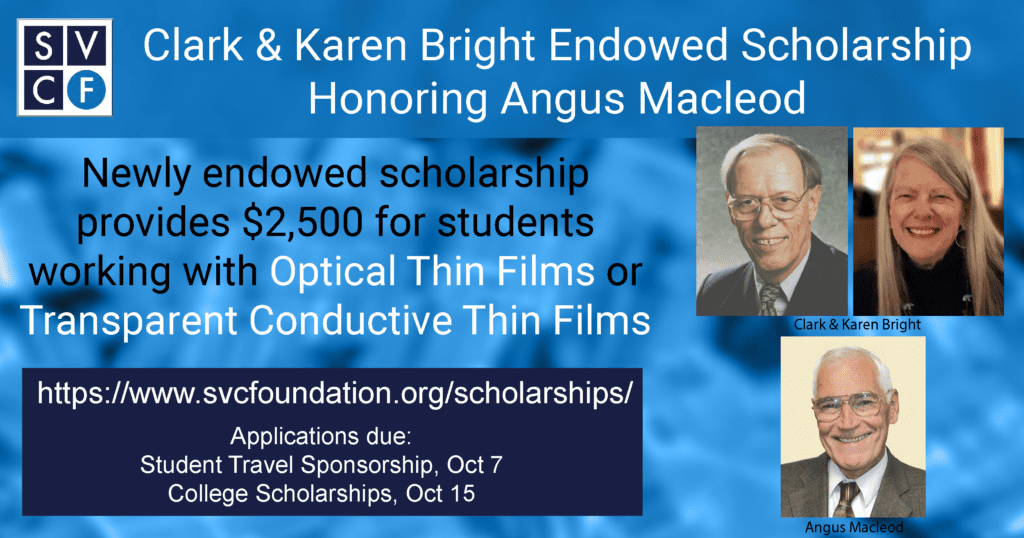 Both Clark and Angus had extensive careers in industry and encouraged early career individuals working in industry to attend the SVC TechCon.  Thus, this scholarship is a natural extension of their on-going promotion of the SVC and the further education of those studying in similar fields.
Clark I. Bright
Clark has worked for small companies (such as Sierracin Corporation (now part of PPG Aerospace) and Delta V Technologies (a vacuum technology and custom equipment supplier,  acquired by 3M) and large companies (e.g., Xerox Corporation in the Electro-Optical Systems Division and 3M in the Corporate Research Laboratory). He also started his own company, Optical and Conductive Coatings; an optical thin film coating business he led for 16 years before selling to and joining a company in Silicon Valley (Southwall Technologies, now part of Eastman Chemical). When he retired from 3M, and started a consulting company, Bright Thin Film Solutions LLC, they wrote, "During a career spanning more than 50 years, Clark has been a recognized leader in the global transparent conductor and vapor processing community."
H. Angus Macleod
Angus was born and educated in Scotland and his first career opportunities were with various companies in the UK.  He wrote the first edition of his book, "Thin-Film Optical Filters" while at an optical coatings company in the northeast of England.  This book is now in its 5th edition and established Angus as an international expert in the area. Angus came to the United States in 1979 to join the University of Arizona as a professor and later as head of the Optical Science Center.  Angus developed the thin film software that led to the formation of his company, the Thin Film Center, just as personal computing was becoming more available.  Angus passed on April 29, 2021 at the age of 87, but will always be remembered as an outstanding educator, prolific researcher, mentor, and friend to so many.