Nan Zheng was at South Dakota School of Mines and Technology when she received a scholarship from the SVC Foundation in 2013. She went on to receive a PhD degree studying the growth and characterization of III-V semiconductor materials – primarily using MOCVD (metalorganic chemical vapor deposition) to grow their thin films.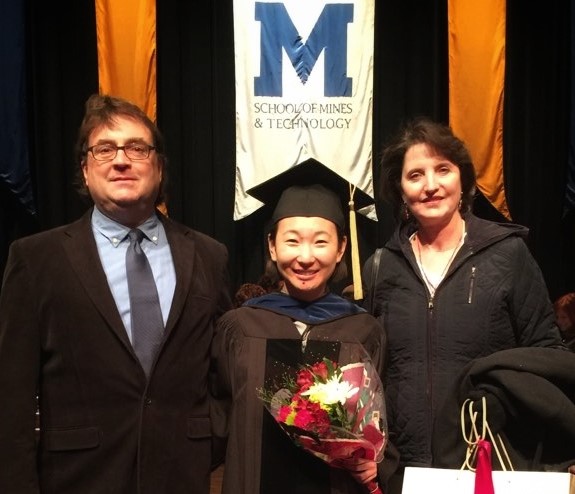 After graduation, Nan went to work in the manufacturing of laser devices and still uses the knowledge of MOCVD. Although she is not directly doing the growth anymore, she still has a passion for vacuum coatings and technology. "Having such background helps me to have a better understanding of the devices we make." She is now a VCSEL product engineer at Broadcom in Singapore.
After receiving the SVC Foundation Scholarship, Nan was offered the opportunity to travel to an SVC Techcon. She got to meet Bryant Hichwa (former Scholarship Committee Chair) and says he was so amazingly kind and friendly. "My impression of the SVC Techcon was that it was highly commercial and professional, yet everyone was so kind, genuine and ready to help. I had a good time at the conference." says Nan.
"My professor and I believe in our research, but being recognized by a prestigious scholarship like the SVC Foundation Scholarship definitely boosted our confidence in our work." says Nan. "My application letter for the scholarship was rather idealistic and maybe somewhat naive too, and my professor was kind enough to offer to have a look at it before my submission, but I decided not to. It was not perfect, probably had lots of room for polishing and editing, but it was genuine, pure and raw, and I wanted to keep it that way."
Nan goes on to say "I was quite surprised when I got the scholarship, and this makes me think even higher about the SVC Foundation. Not only because the SVC Foundation supports our research, but it believed in me, who may be a bit naive about the understanding of the world, but has a raw and genuine heart and faith that I, even as a poor research nobody, can contribute to a better world through hard work."
"I am very grateful for the support and opportunity the SVC Foundation gave me." Well said Nan. We truly appreciate the heart and soul you put into your application and your research. We are sure you are putting that same energy into your job every day!